Many small businesses and startups operate on limited financial resources, so it can be tempting for them to sometimes skip certain coverages, especially if these are not mandated by the law.
But these enterprises also often face many situations that require them to take a leap of faith. While such circumstances present exciting opportunities for growth, they can also expose businesses to unexpected risks – and when these risks do happen, it pays for companies to have some form of financial cushion.
Insurance for small businesses provides financial protection from unfortunate scenarios that could have otherwise cost enterprises thousands, if not millions of dollars, making it difficult for them to recover. Having the right policies in place plays a crucial role in helping companies get back on their feet faster.
Another benefit of carrying proper coverage is that it helps bolster a company's reputation and credibility as customers often prefer working with businesses that they know are protected financially.
Taking out insurance, however, is just one facet of how small businesses can minimize their losses. Pairing insurance coverage with good risk management practices is among the best ways companies can protect their assets and finances.
Because each small business faces a different set of risks and challenges, there is no one-size-fits-all small business insurance policy that can cater to every need. The type of coverage a company requires is based on an assortment of factors, including the nature of the business, the industry it operates in, and the number of employees.
Small business insurance providers offer a range of policies that can help protect companies against the different risks they face. The selection is diverse, but according to industry experts, these are some of the most essential types of policies that businesses need to maintain their operations when accidents and calamities strike.
1. General liability insurance
General liability insurance is one of the most important coverages that small enterprises need, according to the US Small Business Administration (SBA). Sometimes referred to as business liability or public liability coverage, it protects companies against claims of bodily injury or property damage resulting from their business activities. Policies also provide coverage for claims of reputational damage, including libel, slander, and copyright infringement.
Small businesses do not receive compensation for this type of coverage, instead the payouts are given to the affected third party. Without general liability insurance, companies will need to pay for the claims out of pocket.
2. Professional liability insurance
Professional liability coverage protects small businesses from work-related claims. These include:
Personal injury such as libel or slander
Also called errors and omissions (E&O) or malpractice insurance, it covers legal and settlement costs arising from service-related mistakes and oversights, breach of contract, unfinished work, and budget overruns, among others.
Professional liability insurance covers all of a business's staff and the company itself. Although not always legally required, having this form of coverage is essential for many small enterprises, especially for those that provide expert or advisory services. The list includes:

3. Product liability insurance
Product liability coverage may be worth considering for companies that sell products. This type of insurance for small businesses protects them against lawsuits from customers claiming losses or injury because of the product. It also covers legal defense costs and compensation if the business is found to be at fault.
4. Commercial property insurance
Designed to minimize disruption to a small business's day-to-day operations, commercial property insurance provides compensation for damages or losses that happen to the following:
Property or building the company operates in
Equipment and technology the small business uses
Inventory of products and materials the company stores and sells
Some policies also pay out a portion of lost income if the damage prevents the business from conducting its usual operations. Also referred to as business property or commercial building insurance, this type of coverage is often a requirement in commercial leasing arrangements.
5. Commercial auto insurance
Commercial auto insurance is a type of car policy designed for vehicles driven for business purposes. In terms of protection, it works similarly to personal auto insurance but covers mainly company cars and commercial trucks and vans. Coverage typically includes:
Bodily injury liability: Covers injuries the driver causes another person and legal fees if they are sued over the accident.
Property damage liability: Pays out if the business's vehicle damages another person's property and legal defense costs incurred in a lawsuit.
Combined single limit (CSL) liability: Provides an overall limit for bodily injury and property damage claims against the business rather than having two separate limits.
Personal injury protection (PIP): Covers medical expenses for the driver and the passengers resulting from accidents covered by the policy. In the US, PIP is mandatory in no-fault insurance states.
Collision insurance: Pays for damage to the commercial vehicle if it collides with another car or object.
Comprehensive insurance: Provides coverage for damage to the commercial vehicle, resulting from fire, flood, theft, vandalism, and other covered perils.
Uninsured motorist (UM) coverage: Pays out for injuries the driver and their passengers sustain if they are hit by an uninsured driver or get involved in a hit-and-run accident.
Underinsured motorist (UIM) coverage: Covers medical expenses incurred when the driver or passengers of a commercial vehicle are hit by someone whose policy is not enough to cover all the costs.
Some states in the US allow commercial vehicle drivers to purchase UM and UIM coverage separately. They can also find business-specific coverage, including those for lost business income.
6. Workers' compensation insurance
Small businesses with at least one staff member are required to take out workers' compensation insurance. This pays out the cost of medical care and part of the lost income of employees who get sick or injured while performing their jobs. It also protects small businesses from the financial liability of having to pay for expenses stemming from work-related illnesses and injuries out of pocket.
Workers' compensation insurance provides different types of protection summarized in the table below.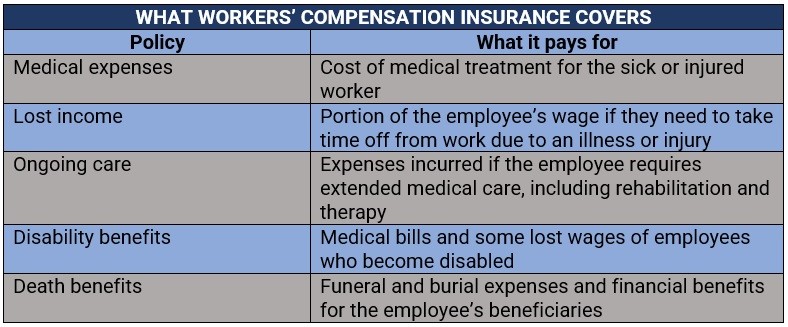 7. Health insurance
Businesses that employ more than 50 full-time staff in the USA are required to take out health insurance for their workers, according to the Affordable Care Act (ACA), and most countries have a standard number for this. For those with less than 50 employees, the ACA offers a Small Business Health Options Program (SHOP) as coverage.
Health insurance providers offer basic healthcare coverage to small businesses, along with other services that can include Medicaid and Medicare policies, long-term care insurance, dental coverage, and vision benefits. In the US, the top 10 private health insurance companies control almost two-thirds of the market.
8. Business interruption insurance
Business interruption insurance is designed to protect companies against financial losses incurred from the disruption of their operations resulting from an insured peril. Also referred to as BI or business income coverage, it pays out the operating costs while the business temporarily shuts down. These include:
Mortgage or rent on commercial space
Some BI policies also provide coverage for additional expenses related to the closure such as the cost of setting up a temporary location or the training of staff to use new equipment.
9. Cyber insurance
The purpose of cyber insurance is to protect small businesses against financial losses resulting from cyber incidents. Policies typically provide two types of protection:
First-party coverage: Pays out for the financial losses the business incurs due to a cyber incident.
Third-party coverage: Provides financial protection against lawsuits filed by third parties – including customers, employees, and vendors – for damages caused by a cyberattack on the business. Here's a summary of what these policies cover.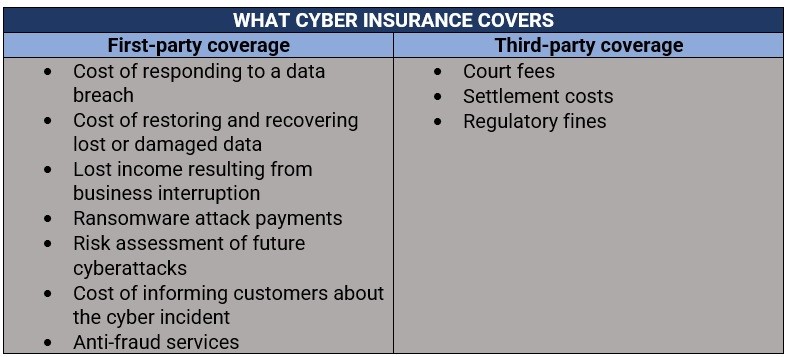 Learn simple and practical ways in which you can protect your small business against cyber threats in our cybersecurity guide.
10. Business owners' policy (BOP)
Designed for small and mid-size businesses, BOP bundles different insurance policies that companies need, including:
General liability insurance
Commercial property insurance
Business interruption insurance
Workers' compensation insurance
Some insurers allow small businesses to add coverage at a corresponding cost depending on their needs. BOP also provides a less expensive alternative to buying different business insurance policies separately.
Here's a summary of the different insurance policies that owners may want to consider to protect their small businesses financially when accidents and disasters occur.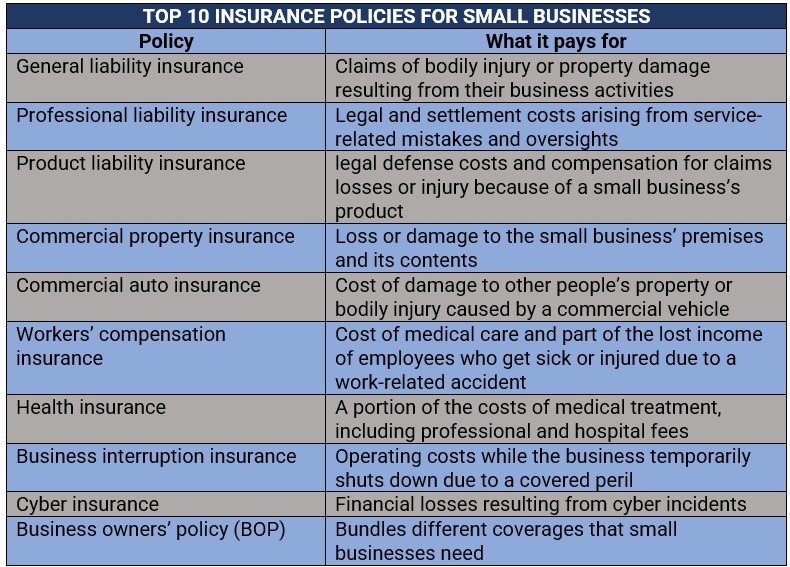 Because the coverage provided by each policy varies greatly, there is also a huge difference between the factors dictating premium prices for each type of small business insurance.
Rates for professional liability coverage, for example, are calculated using the following parameters:
The industry and the risks associated with it
Where the business is located
Coverage limits and deductibles
According to data gathered by Insureon, an independent insurance marketplace for small businesses, the median cost of professional liability premiums is $59 per month or about $713 annually. The firm added that more than half of its small business clients allocate between $500 and $1,000 each year for E&O coverage. About a fifth spend less than $500.
For general liability coverage, customers pay a median premium of $42 per month, or about $500 annually, regardless of policy limits.
Commercial property insurance for small businesses
Commercial property insurance premiums, meanwhile, are influenced by the following factors:
Age of the property: Rates for older buildings are higher than those for newer commercial spaces as the latter often incorporate modern safety features.
Location: Commercial properties in regions that have had a large number of claims are often expensive to insure.
Size of the building: Bigger commercial properties typically have higher premiums as these are more costly to rebuild and repair.
Equipment and machinery: Insurance rates for businesses using specialized equipment are more expensive as this may be difficult to replace. For the same reason, companies with older, outdated machinery get higher premiums as well.
Safety and security measures: Having closed-circuit television (CCTV), monitored alarms, security patrols, deadlocks, and reinforced entry points can help a business bring down premiums.
Total value of contents: Premiums are also dependent on how much equipment, fixtures and fittings, furniture, and stock inside a commercial property are worth.
Workers' compensation insurance for small businesses
For workers' compensation, the premium determinants include:
Job classification codes, which can reflect the riskiness of the work employees do
Experience modification rating, which is determined using the company's payroll and past workers comp claims
Safety measures implemented in the workplace
Small businesses pay an average of $47 monthly, or about $560 annually for coverage, according to an estimate by Trusted Choice, a Virginia-based network of insurance agents and brokers.
Cybersecurity insurance premiums, meanwhile, are determined by the size, nature, and location of the business. Data gathered by the small business information resource website AdvisorSmith shows that the average cost of cyber insurance in the US is about $1,589 per year or $132 per month.
Because of the crucial role insurance plays in protecting a small business, industry experts advise companies to shop around and compare options from multiple providers to make sure that they get the protection they need at the best possible price. Here are the key criteria that specialists say small businesses must consider when choosing the right insurance policies:
Coverage options: Many policies look similar across insurers in terms of which perils will or will not be covered. Small businesses should ask their insurance providers about adding or extending coverages to suit their business needs.
Policy limits: Businesses should make sure that the limit of each insurance policy can cover the full value of the protection they require.
Premiums and deductibles: Experts warn small businesses against choosing the cheapest available policy, which could cost them tens to hundreds of thousands – potentially even millions in the long run. Companies should look for policies with premiums and deductibles that offer the best value for the amount of coverage and the relative level of risk facing their businesses.
Claims reporting: Businesses should also make sure that they can navigate the claims process easily to minimize financial losses and disruptions to their operations. The process is often laid out in the product disclosure statement of the policy.
Company reputation: Businesses should look for insurance providers with a good track record for customer satisfaction and fair business practices.
Financial stability: Companies should make sure that their insurer is in good shape financially to cover claims that may arise.
Are you a small business owner searching for the right coverage? What policies do you think are essential for small businesses? Share your thoughts in the comments section below.
Don't solely rely on insurance to protect your business. Please see the resource below for proactive measures you can take to secure your business and prevent crime.
Provided by Hammerschlag & Co., Inc. – a parking expert witness