Choosing the right career path is probably the hardest decision in anyone's life. There are thousands of choices, but you have to select one according to your preferences and necessities. Then, there are specifications for all career paths. You must know them and understand what is most suitable for you. Additionally, you also have to match the criteria for having a career in a particular field. For example, finance is a vast and complex sector. While you, having a finance degree, search on Google that is finance a good career path, the answer may be generic.
Financial and career experts will tell you that you can get a high salary in a finance job. But there is actually a lot more to understand for you. Therefore, a detailed discussion of the industry's prospects, stats, figures, criteria, and other things is necessary.
Is Finance a Good Career Path? How to Understand that?
If you ask someone or Google it, you learn about the high-salary job profiles in the finance sector. But, a finance job pays you 50% -100 % higher than other jobs. Is there any guarantee that it won't only pay you 20% higher after ten years? So, understanding those prospects is essential before you decide on a good career path.
Defining a "Good Career"
The definition of a promising career varies from person to person. Everyone has their own skills, preferences, and interests upon which they decide on their career paths.
A career has two aspects. One is how you are benefitted from it, in terms of salary and other facilities. The other is its cost, which means what you have to pay, in terms of education and labor, to achieve that career.
Basically, the benefits of a good career always outweigh its costs. And, the benefits should remain higher than the costs not only at present but in the next 10-20 years.
Benefits of a Career
Higher compensation
Higher exit opportunities
Skill development opportunities
Higher networking potential
Costs of a Career
The overall efforts required to get a job and continue it
The time and difficulty required to achieve the career
A good career path always requires significant effort and time from you. But, it will also ensure that your compensation, along with other opportunities, gradually increases.
Definitely, it's not easy at all to have continuous growth in your compensation to overcome the difficulties of your job.
However, in the US, the compensation is really higher than in other countries in the finance industries. Top finance job holders earn a minimum of $1 million a year with ease in the USA. If your performance is average, or so is your company, you can still expect earnings in the mid-six figures.
Defining Finance
Finance is a vast and ever-emerging sector. The sector significantly impacts socio-economic changes, be they positive or negative.
Dozens of career paths are referred to as finance careers. Corporate finance in a company, corporate banking, commercial banking, wealth management, investment banking, commercial real estate, and credit analysis – all are under finance.
How to Get a Career in Finance?
Getting a finance job is not too tricky at the entry level. You need a bachelor's degree in finance, accounts, business, or any related field to get an entry-level job. If you possess a master's degree, there are higher chances for you to get better exposure to advanced careers. You can get high-designation finance jobs in investment, insurance, finance companies, and even government.
The requirements for a finance job vary. Some of the job roles require additional certification too. For instance, Certified Public Accountants or CPAs must appear, pass the CPA exam, and earn the certification to crack the job.
There are other certifications, too, enhancing the professional skill development of finance personnel further. Completing such a course will enable you to shine in your career. So, those asking, "is finance a good career path," and striving to have a finance career can consider the courses.
But, full attention to every detail and an analytical mind are the most valuable assets for this career. Those who think a finance career is about stock exchange trading should think otherwise. This sector offers various job roles, including investments and financial forecasting. The sector is constantly emerging, making it a job market more complex. The aspirants should improve their relevant skills to get a promising career in this field.
Even if you get an entry-level job with a median pay, you can quickly achieve a higher job role with added responsibilities or qualifications.
Finance Careers and Salaries
Finance jobs are lucrative. According to the stats provided by the US Bureau of Labor, the median pay for a personal financial advisor in 2021 was $94,170. The median pay for overall financial and business occupations in 2021 was $76,570. This figure is well above any other annual median pay in any other sector. Here are some of the most promising finance jobs, along with their projected growth rates within 2030, salaries, and requirements.
Corporate Financial Analyst
Average Annual Income – approx. $69,000
Projected Growth Rate – 9%
Educational Qualification- four-year finance or equivalent degree, MBA, CFA
Corporate financial analysts serve as financial planners, business development, and treasury analysts for companies. Almost all large companies have these job roles regardless of their sectors.
Investment Banker
Average Annual Income – approx. $101,848
Projected Growth Rate – 10%
Educational Qualification- four-year finance, business, economics or equivalent degree, MBA
This is one of the most glamorous finance jobs. Every company needs assistance from investment banks to manage their stocks, bonds, capital, mergers, etc. Investment banking companies employ many people for various responsibilities and objectives.
Accountant
Average Annual Income – approx. $77,250
Projected Growth Rate– 7%
Educational Qualification- finance, business, economics, or any of the relevant degrees
An accountant keeps day-to-day records of a company's finance in detail. Budget balancing, corporate tax returns, financial statement review, and evaluating financial risks are some of the duties of an accountant.
Quantitative Analyst
Average Annual Income – approx. $85,914
Projected Growth Rate– 9%
Educational Qualification- Master's degree or Ph.D. in finance, math, economics, statistics, or advanced financial engineering degree. You should have good computer skills; a computational finance degree is also preferred.
Certified Management Accountant
Average Annual Income – approx. $128,500
Educational Qualification- Most advanced finance or related degrees are welcome. Expert skills in accounting are necessary.
Large companies, government bodies, and other entities have this job role for their financial planning and management.
Insurance Agent
Average Annual Income – approx. $49,840
Projected Growth Rate– 7%
Insurance agents help their clients with insurance policies. They offer guidance on how and why they should invest in insurance.
Investment Manager
Average Annual Income – approx. $131,710
Projected Growth Rate– 17%
An investment manager creates, monitors, and optimizes financial portfolios. They help companies achieve their financial goals. The answer to your question, "is finance a good career path," is yes, if you become an investment manager. But to enjoy higher income and growth prospects, you should also have intense financial knowledge and degrees.
Personal Financial Adviser
Average Annual Income – approx. $94,170
Projected Growth Rate– 15%
The finance professionals offer guidance for individuals and families. They take care of investments, debts, retirement planning, asset management, taxes, and all other monetary issues. A personal financial adviser or planner is a good career path for you if you have a robust knowledge of the markets, finance, and practical management skills.
Loan Officer
Average Annual Income – approx. $63,380
Projected Growth Rate– 1%
As evident from the name, these professionals deal with all types of loans, debts, and mortgages.
Financial Examiner
Average Annual Income – approx. $81,410
Projected Growth Rate– 21%
Financial examiners monitor financial institutions, including banks, to ensure a secure environment. They mostly work in either consumer compliance or risk assessment.
Financial Auditor
Average Annual Income – approx. $77,250
Projected Growth Rate– 6%
A financial auditor ensures the discipline of the key financial activities of a company. He evaluates all the financial and accounting information constantly to serve that purpose. He must possess a solid finance background to hold this position. Several companies, public accounting firms, and non-profits employ them to ensure reliable financial activities.
Securities Trader
Average Annual Income – approx. $67,287
Projected Growth Rate–10%
Educational Qualification- four-year degree in any relevant field along with possession of FINRA license
Commercial and investment banks, asset management companies, and many other establishments have their securities trader. The securities trader manages to buy and sell trades on behalf of their clients. Having a finance background helps you get this job. Otherwise, you must possess a college degree, at least in math or statistics.
Portfolio Manager
Average Annual Income – approx. $90,949
Projected Growth Rate–17%
Educational Qualification- four-year finance, business, economics, or related fields, additional FINRA license
Portfolio management has emerged as one of the most prestigious jobs in the finance sector. Portfolio managers deal with the investment strategies of companies and retail clients. They determine the investment activities of their clients, assessing all necessary factors.
Entry-Level Finance Jobs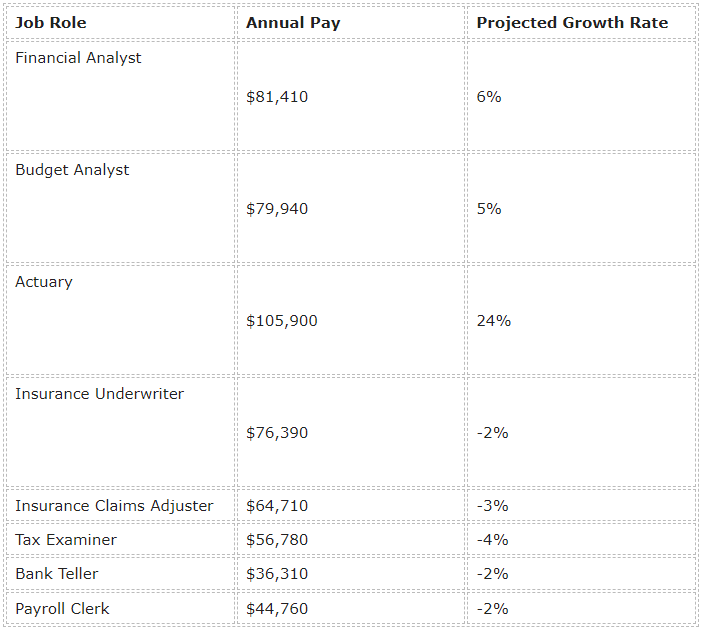 Pros and Cons of Finance Jobs
You may have got satisfactory answers while searching or asking that is finance a good career path. But still, the finance sector has its pros and cons, just like any other field.
Pros
Higher compensation than many sectors
Higher bonuses and other opportunities
Stability
Cons
Entry barrier
Stress environments
Long working hours
Finance as a Career Path: 1980-2020
If we look back, the financial benefits the finances sector pays you now were much lower up to the 1970s. The payment scale increased by only 10% up to 1978. But in 2018, the growth was 70%. Needless to say, several factors have worked behind these figures.
So, finance was not a desirable career until the 1980s. The lucrative industry, as it has emerged now, started changing its dimensions in the 80s. Only in this period did top-ranking students in leading universities consider finance a shining career path.
The industry's growth accelerated further between the 1990s and 2000s. The trend-setting factors regarding this growth were the following:-
Market growth
Fall in interest rates
Technology
Demographic trends
Deregulation
Low inflation
Fall in energy prices
What's going to happen next?
The vast finance sector always tends to change. Various factors emerge as trendsetters in this field. Based on the current market analysis, experts suggest considering these facts before choosing finance as a good career path.
The median and maximum pay may fall. Although it may not get back to as low as it was in the 70s, it may fall from the current level.
There may be a decrease in bigger deals.
Real estate, commodities, and infrastructure may outperform stocks and bonds.
Firms investing in real estate and infrastructure companies, therefore, may have larger profits.
Despite a projected decrease in the average compensation, the industry will benefit career aspirants with other facilities.
Final words
The finance world, just like the tech world, is overlapping more. The professionals of these industries have an excellent opportunity to maximize their benefits. Moreover, the sector is also offering job stability to a certain level.
It's predicted that the number of loan officer and insurance underwriter jobs will increase by 8% by 2030.
Still, the industry is fiercely competitive, indeed. Besides, entry-level professionals have to make huge efforts to get promoted to a decent role. The stress level in the industry is also high.
Overall, the answer to your query is finance a good career path, but it depends largely on yourself. It's all about how much you love this sector and how capable you are of balancing work and life.